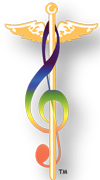 Music has been used for healing purposes since ancient times. Healing Muses provides high-quality, live music to support patient care in hospitals, hospices, cancer care and convalescent centers throughout the San Francisco Bay Area.

Our harp music creates a stress-reducing and calming environment that reinforces healing for patients, visitors and staff.  We are sometimes asked why we don't use volunteer musicians to reduce costs. Healing Muses' fifteen years experience has confirmed that hiring -- and compensating -- a carefully-vetted team of musicians ensures our ability to deliver on our promise.

We promise:
Quality – Our musicians are skilled at using music therapeutically and are able to adjust to situational needs.
Continuity – Our musicians return; their familiarity with each location's routines allows them to integrate with individual programs of care.
Collaboration – Our musicians get to know staff and work with them to meet patients' needs.
Focus – Our focus is on healing. It's not about the musician; it's not about marketing. We are a non-profit; our funds and efforts go directly to support this work.
Find Out More

Stay in touch with our work through our newsletters (read the latest newsletter) and by following our Facebook page.
 
If you want to make Healing Muses a part of your care program or have any questions about our work, please contact us at:
Support us with a secure, online tax-deductible contribution. Healing Muses is a tax-exempt 501(c)3 non-profit organization.
We send four newsletters each year. We promise we will never sell or share your information.